PRINCIPAL MESSAGE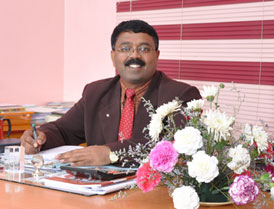 Mr.I.Alfred Ebenezer was the first person to join this institution in the year 1991 as Lecturer. He took charge as Project Officer for Community Polytechnic Scheme sponsored by the Ministry of Human Resource and Development, New Delhi. He was promoted as Senior Lecturer in the year 1998 and thereafter as HOD / Mechanical Engineering in the Year 2001.
He was awarded "The Best Project Guide" Award in the year 1998 by Directorate of Technical Education, Chennai. He took charge as Principal on 1st June 2004.
From the day he took charge he is involving in activities to cast the institution into another mould of repute. His involvement and dedication to promote the standard of polytechnic certify his exemplary characteristics. He has a good deal of firmness and more patience. His managerial and technical application are excellent in nature that trumpet his achievements. He is taking profuse strains in transforming his rich academic experience for the welfare of the students and the institution. He has authored a book named " Basics of Computer Science " for the First year diploma students.